The Body Shop At Jordan Ford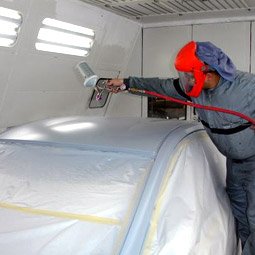 Sometimes unfortunate things happen, like a little fender bender or even a more serious collision. And when it comes fixing your car, truck or SUV there is only one place you should trust for repairs. The auto body shop at Jordan Ford. We have an amazing team of trained mechanics who have years of experiences work under the hood on Ford cars, trucks and SUVs; as well as other auto brands.
Another benefit of getting your vehicle repaired here at Jordan Ford is that we only used genuine Ford parts. That means that any parts that need to replaced will be replaced with parts that come straight from the factory that have been tested for quality and reliability. Jordan Ford also offers a variety of service, body shop, and parts special for money saving opportunities for our customers from Canyon Lake to Cibolo.
We know that no one enjoys getting in an accident or having their car, truck or SUV stuck in the shop getting repaired. Which is why we aim to make repairs in a timely fashion while making sure your vehicle is back to running like new. If you need to bring your car, truck or SUV to into our body shop just give us a call at 888-779-9135 or fill out the form below to make an appointment online. A member of our team will get back to you shortly. Jordan Ford is proud to help keep driver from all over the San Antonio area on the road.